Furniture Removals Durban
Furniture removals in Durban. Looking for affordable and reliable furniture removals in Durban? Prestige Moves offer furniture removal services for any size home or office. We have experienced home and office movers. 
We have a fleet of removal trucks to transport any size home or office, no matter how small or large your load is. 
Durban Furniture Removers
Durban furniture movers transport your home furniture or office furniture to any destination in Durban and surrounding areas. Prestige Moves specialist team of furniture removers in Durban will relocate your entire household or office furniture and equipment safely and efficiently to your new location.
Furniture movers Durban
Furniture moves in Durban are done easily with no hassles. Our furniture moving staff are fully trained, we arrive fully equipped with trolleys, blankets, and straps to get the job done quickly and smoothly. Prestige Moves are known in Durban for our smooth removal of furniture. 
Durban furniture movers
Durban furniture removals offering small and large moves. Prestige Moves are friendly, efficient, and fast at moving furniture in Durban.
Prestige Moves offer you safe and affordable residential removal services in Durban, as well as protective packaging and wrapping of household furniture to support the move to your new home.
Office removals Durban
Moving your office means downtime for your business. Prestige Movers understands this, that is why we offer fast reliable office removals in Durban. With our office removal service, we will have your office up and running again as soon as possible. We plan and manage your office move with minimum fuss and disruption.
Our office removals service includes boxes, packaging material, blankets, and packing services, to prepare and coordinate, efficient and quick office relocation service. Safe office removal & transportation to your new destination
Our well-equipped staff will ensure that the process of dismantling and reassembling office furniture runs smoothly. Office Furniture is placed at the new premises as per the layout plan. The cleaning-up of packing material after unpacking We, leave your new offices neat, tidy, and ready for your business to resume operation.
Prestige Moves specializes in local and long-distance office moves from Durban.
Small load furniture removals Durban
Small load furniture removals in Durban. No matter how small your load is, we offer the same level of services. We transport your small loads anywhere in Durban or to your chosen destination.
Local furniture removals Durban
Local furniture removals service near you in Durban. Prestige Moves offers an affordable local moving solution if you are moving locally in Durban. You get peace of mind, affordability and a fast reliable local move to your new premises.
Long-distance removals Durban
If you are relocating long distance, or just need items delivered to a long-distance location we have you covered with our effortless long-distance moving service. Prestige Moves are a trusted long-distance removals company in Durban. We move household and office furniture anywhere in Gauteng, the Free State, and Kwazulu-natal to and from Durban.
House moving company Durban
Our full, customizable house moving services meet all your moving requirements within your budget.
Prestige Moves furniture removal service in Durban
Prestige Moves are a furniture removal service in Durban that offer a cost-effective reliable removal service
Shared loads Durban
Shared loads are a good way to move your furniture and save money. Are you looking for a transport company in Durban offering shared loads?  Prestige Moves ensures that you work with a professional furniture removal team offering shared loads in Durban.
Share loading is very safe as we compartmentalize each client. Each shared load is carefully packed, secured, protected, and managed on the truck to ensure all your goods arrive safely  
Our main routes include Moving between Durban and Jhb, Pretoria.  We cover all towns and cities in between these routes as well.
Durban
Durban, a coastal city in eastern South Africa's KwaZulu-Natal province, is known for its African, Indian and colonial influences. Refurbished for soccer's 2010 World Cup, the seafront promenade runs from uShaka Marine World, a huge theme park with an aquarium, to the futuristic Moses Mabhida Stadium. The Durban Botanical Gardens showcases African plant species
Durban Landmarks
Tree – oldest in Durban
220 Gladys Mazibuko Rd, Essenwood, Berea, 4001
Durban Botanic Gardens
The Durban Botanic Gardens is situated in the heart of the Berea, on the east coast of KwaZulu-Natal. This 15-hectare botanic garden was established in 1849 and is Africa's oldest surviving botanic garden and the City's oldest public institution.
The Durban Botanic Gardens curates major collections such as cycads, palms, and orchids, and, in the true tradition of botanic gardens, are really several gardens within one.
The indigenous and exotic nature of the collections promotes a very rich teaching and learning garden, to better understand the world of plants, for everyone from school level to university, interested amateurs to professionals. Plants 'weird and wonderful, from the remarkable ones that feed us, clothe or house us to those that simply inspire us and stretch our imaginations, are all landmarks to be marveled at in the Durban Botanic Gardens.
9A John Zikhali Rd, Berea, Durban, 4001
uShaka Sea World Aquarium
Vibrant marine life center with dolphin & seal shows, shark-tank dives & many other activities.
St Paul's Anglican Church
The parish of St Paul's falls under the Anglican Church of Southern Africa; it was established on 11 June 1849. The first proper service was held on 1 April 1855.
The bells were dedicated in 1921. The parish is located in the province of KwaZulu Natal, under the Diocese of Natal, it falls within the eThekweni Central Archdeaconry.
The church is named after St Paul, an important missionary and leader in the early church and writer of much of the New Testament. The parish building is one of the oldest in the city and has significant heritage value; it is a building that has attracted tourists over the years.
Some of the distinctive features of the church include the architectural style of the building and various stained glass windows.
Things to do In Durban
hit the Beach
Durban is famous for its beaches, both in the city center and the suburbs. Grab a good book and a towel and spend the day working on your tan; or kick things up a notch with an early morning kitesurfing session. uShaka Beach is famous for its sandcastle artists, who create photo-worthy masterpieces for passing tourists. Northern Umdloti Beach is a good bet for families in search of safe swimming, or nature-lovers hoping to catch sight of migrating humpback whales in winter. North Beach is a bodyboarding hotspot. Durban is also convenient for exploring the more secluded beaches of the South Coast.
Go Surfing
At almost any time of day or night, you'll see surfers of all abilities paddling out to the backline on Durban's beaches. This is one of South Africa's top surf spots – whether you're a complete beginner or a seasoned pro. For entry-level waves, head to uShaka Beach and Vetch's Pier. For the more experienced, the best waves are found north of the Golden Mile at North Beach, Bay of Plenty, and Dairy Beach. South of the city center, top surf spots include Ansteys Beach and Cove Rock. Be respectful of other surfers and wait your turn, though – Durban locals are notoriously intolerant of visitors dropping in on their waves.
Visit uShaka Marine World
Located at the southern end of Durban's Golden Mile, uShaka Marine World is the city's top-rated tourist attraction. The vast complex incorporates several different zones, including a reptile house, a rope adventure park, and the Village Walk, an open-air shopping and dining destination. The two main attractions, however, are the aquarium and the water park. The former gives you the opportunity to admire South Africa's diverse marine life up close – including ragged-tooth sharks, African penguins and green turtles. The water park is the ideal choice for a fun family day out, with water slides, splash pools and supertubes.
Go Swimming With Sharks
For an even closer shark encounter, consider taking a 40-minute drive south of Durban to the tiny coastal town of Umkomaas. Umkomaas is the gateway to Aliwal Shoal, an offshore reef system known as one of the best places in the world to dive with sharks. Several scuba diving centers offer baited shark dives, using chum to attract oceanic blacktip sharks, bull sharks and tiger sharks (in season). Sightings are almost guaranteed, and if you don't have your scuba license, don't worry – operators like Aliwal Shoal Scuba offer shark snorkeling and even shark cage diving for those that require a little extra peace of mind.
Hotels in Durban
Summerhill Estate Culinary Retreat
Summerhill Boutique Hotel – a culinary retreat with unpretentious vibes overlooking Durban and the Indian Ocean. Established in 1997 by Christine Richter, Summerhill has successfully accomplished a combination of casual ambiance paired with professionalism in hospitality, Family owned and run The LivingRoom @ Summerhill Estate supper club showcases Durban's culinary diversity at an internationally recognized level. Top 20 Mercedes Benz Eat Out Awards 2019, coming in at number 13 in the country. Logistical strength: Nestled between Westville and Pinetown, we are in the center of M7, M13, M19, N2, and N3. Secure: CCTV on- and off-site monitoring, special access gate, and night guard
Summerhill Estate Culinary Retreat
9 Belvedale Road Cowies Hill, Durban 3610 South Africa
The Benjamin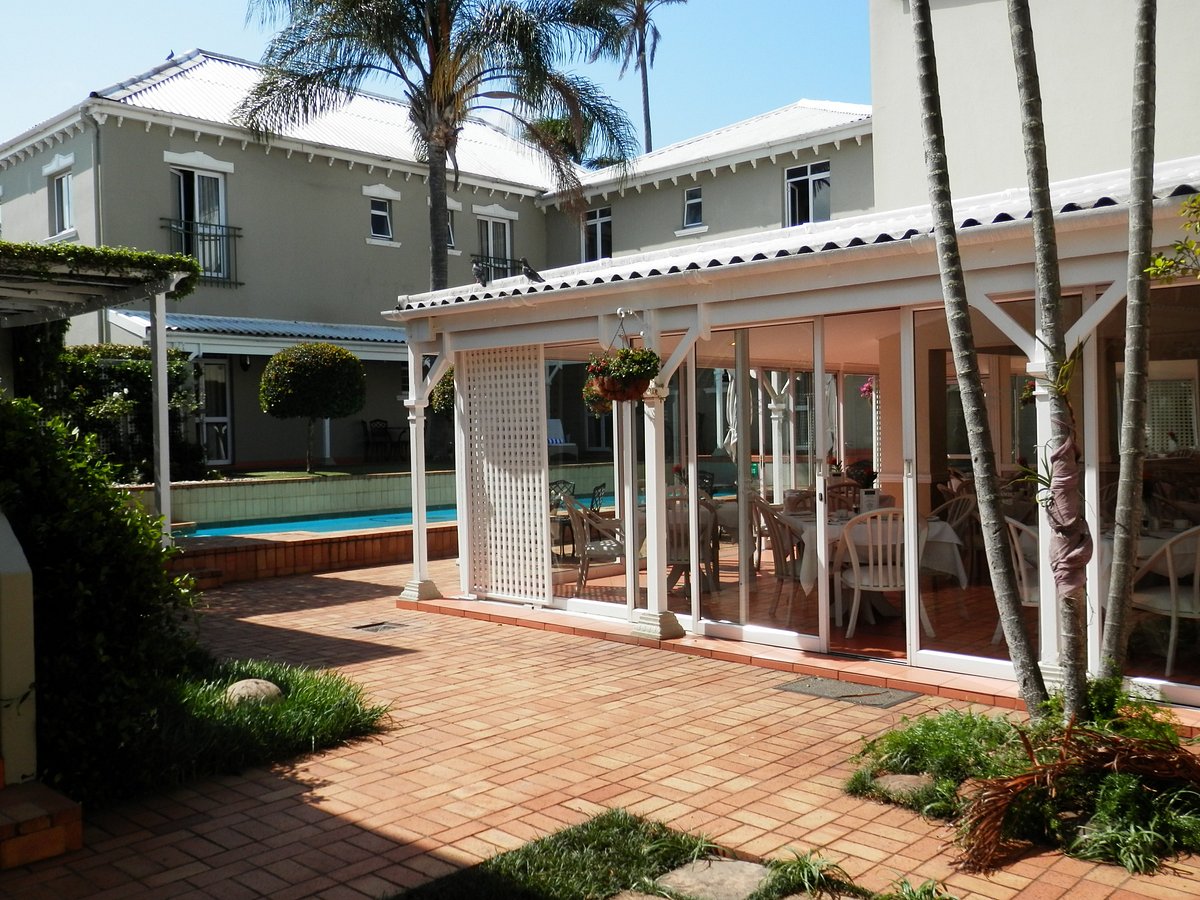 "Home away from Home"A warm welcome awaits you at The Benjamin located a 5-minute drive from Durban Beaches and in the heart of the vibrant entertainment strip in Florida Road. The hotel features gardens with an outdoor pool and a shaded terrace. Free parking is available on site. The Benjamin and offers free WI-FI.41 rooms where no two rooms are the same open onto balconies and gardens. The cozy rooms offer air conditioning, tea, coffee making facilities, hairdryers, Satellite TV, and work desks in all rooms. Overlooking the garden and pool, Benjamin's breakfast is served in our open glassed conservatory-style restaurant and offers a fresh continental breakfast buffet and plated hot breakfasts. Walk out of the Hotel into the restaurant road of Durban and enjoy your dinners and lunches in some of Durban's famous restaurants. The Moses Mabhida Stadium, The Rugby Stadium, Suncoast Casino, and Durban ICC are within 5km by car from The Benjamin.
Gateway Theatre Of Shopping
Gateway Theatre of Shopping is the ultimate fashion, entertainment, and dining destination in Durban. With over 430+ stores, 70 eateries, and a host of exciting entertainment, visitors are spoilt for choice!
At Gateway you will find local South African retail, popular international brands such as Zara, Forever New, Cotton On, Superdry, Gant, and everything in between.
Airport in Durban
King Shaka International Airport
Built for the 2010 World Cup, this airport serves both international and domestic destinations.
King Shaka Dr, La Mercy, 4407
+27324366758
Public transport in Durban
G14 NORTH
Transit station
6 Durban Club Pl, Durban Central, Durban, 4001
Kingsway
Transit station
9 Ivanhoe Farm, Durban, 4000
TECHNOLOGY JUNCTION
Transit station
30 Ingcuce Rd, Durban Central, Durban, 4001
Durban Botanic Gardens Directions to Prestige Moves
9A John Zikhali Rd, Berea, Durban, 4001
Take M19 to Goshawk Rd in Falcon Industrial Park, New Germany
20 min (18.1 km)
Head northwest on John Zikhali Rd toward Durban Botanical Gardens
1.1 km
Turn right onto Stephen Dlamini Rd
1.4 km
Turn left onto Springfield Rd/M17
Continue to follow M17
550 m
Turn left onto Mountain View Ave
210 m
Turn left onto Hendry Rd/M17
450 m
Turn right onto Alpine Rd/M10
1.3 km
Turn left onto Umgeni Rd/M19
Continue to follow M19
12.2 km
Use the left lane to take the M5 ramp
400 m
Turn right onto M5
180 m
Continue straight onto Otto Volek Rd
350 m
Turn right onto Goshawk Rd
Destination will be on the left
2 min (650 m)
Prestige Moves
Unit 250 Lock Up Storage 15 Goshawk Road New Germany, Pinetown, Durban, 3610
CONTACT PRESTIGE MOVES IN Durban